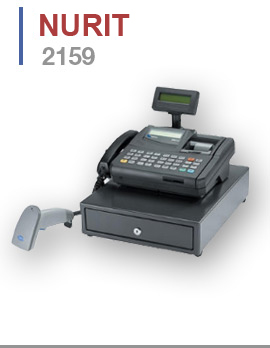 For busy retailers, counter space is always precious. You can't afford to clutter it with a collection of devices that compromise customer service. The NURIT 2159 is your solution as it combines an electronic cash register (ECR) with a payment terminal in one compact, fully integrated unit.
The high-performance NURIT 2159 puts everything your clerks or cashiers need at their fingertips. You can efficiently process all types of transactions including credit cards, cash, checks, coupons, and vouchers. The sophisticated yet easy to use unit also simplifies time-consuming daily activities such as price lookup and department and cashier management.
The versatile NURIT 2159 works effectively in a variety of retail environments. Use it as a stand-alone system, or connect it with other ECRs and payment devices in your store. The unit easily interfaces with back-office management and accounting systems via Ethernet or dial-up connections. Peripherals such as a PIN pad, check reader, barcode wand, or even an electronic scale can be attached to meet every need.
For a point of sale payment solution that's right on the money you need the NURIT 2159 combination ECR-payment device from VeriFone.
Integrated ECR and payment terminal has compact footprint, freeing needed counter space
Ergonomically designed 36-button keypad is easy to use, helping to minimize training and reduce errors
Large backlit alphanumeric displays are easy for cashiers and customers to read
Fast, reliable, auto-feed printer saves time and reduces downtime
Ready support for peripherals such as PIN pad, check reader, barcode reader, PC, or electronic scale allows for complete payment solutions
PayGo is a retail point of sale and management solution for up-and-coming retailers and is available at a fraction of the price of traditional POS systems. It tracks inventory, sales, orders, customers, gift cards, returns, loyalty programs and more. Best of all, it is in the "The Cloud" meaning it is a hosted solution that simplifies the complexities and inner workings of traditional POS solutions. It integrates easily with point of sale hardware and with your existing Macintosh or personal computer.
PayGo SaaS runs on the latest technology and is a robust and powerful software solution. It handles the core features of your retail business and because its so easy to use, you'll love working with it. Use PayGo SaaS Big Picture to see up to the minute information on how your business is doing. You can view the day's sales, what items are selling, your margins, what is on order, how things are going at the department level and more.
Purchasing is very important to a retailer. That's why PayGo SaaS runs anywhere you have a high-speed internet connection. You can login, enter your orders and they are there instantly for your staff to see and process. Connecting your stores has never been as easy as it is with PayGo SaaS. Everything is real-time! You always know how much business is going on at any site. Now that gives you an advantage.
With today's technology, why should you have to have two separate ways of tracking your web site and your brick and mortar store? PayGo SaaS says you dont have to. With PayGoCart service, your life just got easier.
By selecting a cloud POS solution, you eliminate the large upfront cost and maximize your flexibility and customization. Best of all, it's easy to manage. It's so easy you might think you're back in 1st grade when you set it all up.
Ringing up sales is  quick and efficient.
Tracking inventory is easy and powerful and can be accessed from multiple locations.
The Mighty Matrix tool makes the tedious work of tracking the many aspects of a single style seem like nothing.
Print price labels (with barcodes) for your merchandise on industry-proven label printers.
Print receipts to a receipt printer and all of your reports to your own printer
Easily add customers and track how they're enjoying your products.
Tracking employee time is as simple as set up your pay periods and that's it. Your employees can then punch in and punch out.