In its quest to offer only the best products in the industry, Federal Bankcard has chosen Authorize.Net as its ecommerce solution. There is a reason that more than 305,000 merchants trust Authorize. Net for payment processing and online fraud prevention solutions. From its easy integration and total security to its fraud prevention and proven history, Authorize.Net delivers at every level. Federal Bankcard and Authorize.Net…it just doesnt get any better.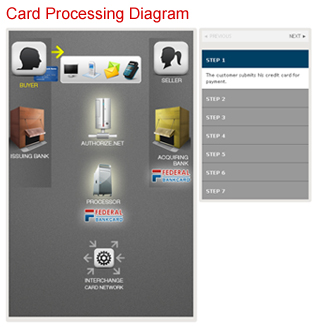 About Authorize.Net
Authorize.Net enables merchants to accept payments safely and easily. It is a robust payment gateway that is easily integrated with a website for online real-time credit card processing and is compatible with most shopping cart software. It comes complete with a Virtual Terminal which allows merchants to manually enter transactions from anywhere they have access to the internet. Sensitive data is stored in the Authorize.Net PCI-compliant data center, never on your computer.
Manage Your Transactions
Submit, review, or void your transactions online. Manually enter payments or issue refunds with the built-in Virtual Terminal, or submit multiple transactions in a single file using the Batch Upload feature. Generate and download reports on settled, declined, and returned transactions; and import downloaded transaction data into your QuickBooks software.
Configure Your Account
Configure the way transactions are handled, including security settings and transaction responses.
Review Account Activity
Search your transaction history based on date, credit card number, customer name, and other fields. Reconcile payment and billing activity using online reports and statements. You can also view your Authorize.Net billing statement and payment history.
Authorize.Net Verified Merchant Seal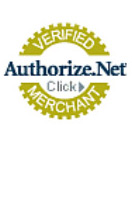 Displaying the Authorize.Net Verified Merchant Seal on your Web site is one of the quickest and easiest ways to create customer confidence and potentially increase sales…and it's free!
The benefits of displaying the Verified Merchant Seal are clear:
Boost Shopper Confidence – Reassure consumers who may be concerned about the security of making online purchases.
Reduce Cart Abandonment – Cut down on shopping cart abandonment due to security and trust concerns.
Increase Credibility – Align your company with one of the industry's best known payment brands.
How the Seal Works Log into the Merchant Interface to configure the website domain(s) on which you would like to display the Verified Merchant Seal. Then copy and paste the generated seal HTML to the desired area(s) of your Web site(s). When a customer clicks on your Verified Merchant Seal, a site verification window appears showing that you are an active Authorize.Net merchant.