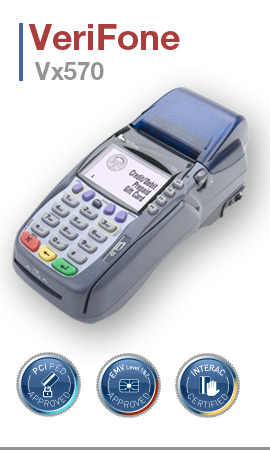 VeriFone's Vx570 countertop solution offers exceptional payment processing and significantly reduces transaction time. Capable of completing transactions in seconds, the Vx570 keeps your customers and your sales on the move. This payment device takes performance to the next level by combining superior speed and power for quick and reliable payment processing with increased memory to support multiple value-added applications.
Smart and stylish, the Vx570 has an intuitive, ATM-style interface and bold menu prompts that minimize staff training and reduce errors. Its integrated printer accepts larger paper rolls requiring less frequent paper  changes, saving you valuable time. And its anti-glare, white backlit display provides exceptional readability. Plus, a USB memory drive allows for instant software downloads. With lightning-fast connectivity in one  sleek package, this powerhouse payment solution does everything but sign the receipt. With its ease of operation and total security, the the Vx570 is simply the best.
VeriFone Vx570 Features: Click here…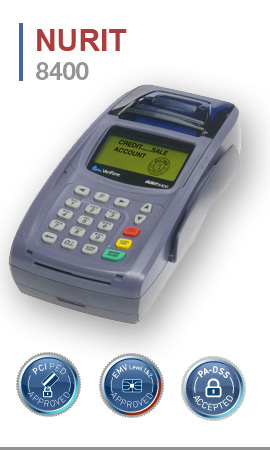 The NURIT 8400 is a robust countertop payment device with unparalleled flexibility. Its configurable options make the NURIT 8400 easily adaptable to a variety of environments and offer investment protection as retailers' business needs change.
Ideally suited for small to medium-sized retailers that need a solid, long-lasting performer with enhanced security, the PCI PED approved NURIT 8400 is the countertop terminal of choice. This multifunctional payment device supports debit, credit, EMV and value-added applications, such as loyalty programs, gift cards, prepaid and other services.
NURIT 8400 Features: Click here…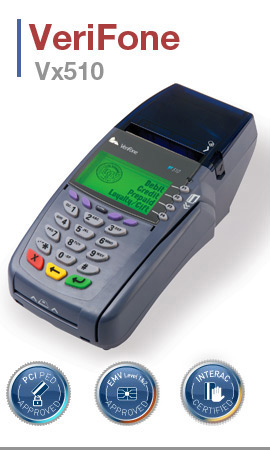 Get connected with the cost-effective, space-saving and secure Vx510 Ethernet. This best-selling countertop solution now hooks up to broadband for super fast transactions. With a PCI PED approved, built-in PIN pad and more usable memory than any competitor, the Vx510 Ethernet terminal speeds lines and gives added peace of mind.
The Vx510 is just what merchants want, and everything they need! This hard-working, reliable payment device efficiently processes debit and credit transactions. Plus, as a part of Vx Solutions, it is an extension of what you already know. Its ATM-style interface is instantly intuitive, requiring virtually no training. The lightweight, ergonomic device with integrated thermal printer and a built-in PIN pad can be easily handed to customers for PIN entry.
The Vx510 countertop solution offers big things in a small package. It provides extraordinary performance in a sleek, compact design.
VeriFone Vx510 Features: Click here….